Featured Dog
FEATURED DOG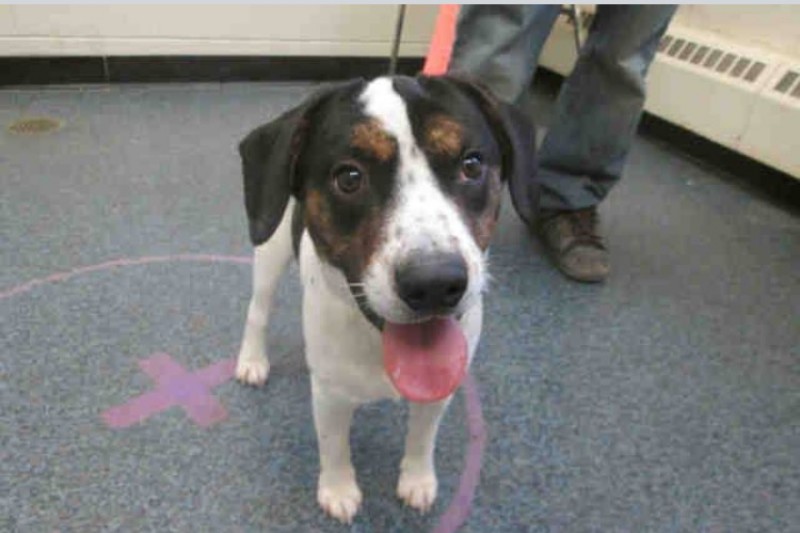 ---
Tick tock. Tick tock. That is the sound of the clock of Eddie's life slipping away to zero. He was scheduled to be euthanized by a kill shelter until the cavalry arrived in the form of Planned Pethood. Fast Eddie arrived at his foster home exuding charm and sweetness (although pretty stinky from the pound). He is the best natured little beagle mix dude. Ed stepped into quite the ensemble in his foster home. He greeted the three other dogs and four cats and one foster kitten with unbounded enthusiasm! He is especially crazy about dog foster sister Mila who he zeroes in on to snuggle with, placing his head adorably on her butt as his pillow. If a dog could roll her eyes, that would be Mila's response to her pal steady Eddie. Ed was to be put down because of serious orthopedic problems in his back legs. Trying not to get too technical, we will describe it in simple, layman's terms. Eddie has luxating patellas in both of his back legs. This means his knee caps are not fixed in place but they have moved up and into the interior of his legs which is both awkward and painful for the little dude. The surgery he requires is called a TTA in which they cut the bone and screw into place a titanium plate to anchor his knee caps into place. Without the surgery, further damage is likely to occur including ruptured cruciates (torn ACL's). Unfortunately for Eddie and Planned Pethood, this surgery is very expensive, at least $2500 even with a generous discount from the vet, a budget buster.

When you make a donation to Planned Pethood, the vast majority (like77-80%) of it is directly for the animals.  Your donation basically goes right to paying our vet bills. A small portion of your donation goes toward essentials like insurance, equipment (like the van that takes cats to adoption events) and boring things like our storage unit that warehouses feral cat traps and old tax returns.  
We do not refuse treatment to our animals based on cost of treatment or on the age of the animal. When we take in a dog or cat, we take that commitment seriously. Your financial support toward Eddie's vet care will be appreciated. Eddie will need continued care and follow up visits. Your help will allow us to continue to do the important work we do every day.

Planned Pethood Inc is a 501(c)(3) non-profit organization.  All donations are deductible to the extent allowable by law.  Every year in the U.S.,  3 - 4 million "surplus" dogs and cats are euthanized as unwanted. Thousands die even in Northwest Ohio because no matter how much we do or how hard we work, there are not enough resources to save them.  This is why Planned Pethood is addressing the problem PRO-actively and RE-actively.  

PRO-actively, we are addressing the overpopulation problem at the very root by offering the public low/no cost spay/neuter in concert with 16 local vets.

We have been responsible for spay/neutering thousands of puppies and kittens, as well as their parents, thus eliminating future litters for those dogs and cats AND all of their offspring

Oftentimes Planned Pethood volunteers use their own time and resources to transport those dogs and cats to and from their spay/neuter appointments, to assure they are spay/neutered. 

RE-Actively, we assure all  of our animals are spayed/neutered before being adopted. In addition, we offer low-cost spay & neuter opportunities and subsidies to make it affordable (sometimes free!) for EVERYONE to be able to get their companion animals spayed and neutered.

ALL Planned Pethood pets are up to date on age-appropriate shots, flea prevention and heartworm prevention before being offered for adoption. In addition, Planned Pethood's policy is to treat all medical ailments, regardless of cost unless the treating vet feels there is nothing more that can be done. We do not refuse treatment to our animals based on cost of treatment, or on the age of the animal. When we take in a dog or cat we take that commitment seriously.

Planned Pethood makes it a priority to find homes for pets in our own backyard. Until there are no more unwanted pets in the Northwestern Ohio area, we will continue our policy of accepting only local animals. We place a priority on strays and animals on death row in kill-shelters.
Our goal is $2,000 and to find Eddie his Forever Home.
If you want to help our featured dog (or any of our other dogs receiving medical care) you can make a donation to her vet bill by clicking on the donate button below. Please also help us by sharing our needs with your friends, family and co-workers. 
PLEASE MAKE A DONATION TODAY- CLICK HERE!
---